ROBERTO ROVIRA EARNS FIU TOP SCHOLAR AWARD FOR 2ND TIME
Since 2008 it has been tradition by Florida International University President Mark B. Rosenberg and initially Provost Douglas Wartzok, now Provost Kenneth G. Furton, to call for nominations from Deans who identify individual faculty who have excelled in the below categories. Top Scholars are nominated by Deans and selected by the Provost and President. They are honored during a reception at the Ronald Reagan House hosted by the President and Provost.
Roberto Rovira was recognized as a 2016 Top Scholar in the Award Winning Creative Work category. This is the second Top Scholar Award for Roberto Rovira (2009 and 2016).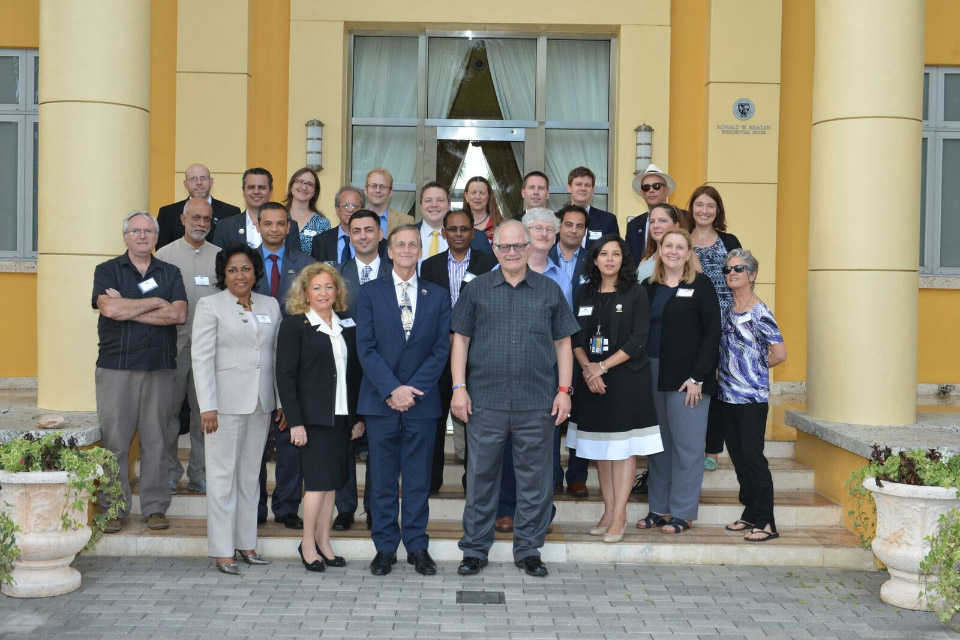 These were FIU's 2016 Top Scholars:
Julie Wade, English, College of Arts, Sciences & Education
Roberto Rovira, Landscape Architecture, College of Architecture + The Arts
Alexander Kroll, Public Administration, Steven J. Green School of International and Public Affairs
Nathaniel Cadle, English, College of Arts, Sciences & Education
Rajamani Narayanan, Physics, College of Arts, Sciences & Education
Nola Holeness, Nursing, College of Nursing & Health Sciences
Lynne Webb, Communication Arts, College of Architecture + The Arts
Geoffrey Smith, Computing and Information Sciences, College of Engineering & Computing
Ryan C. Meldrum, Criminal Justice, Steven J. Green School of International and Public Affairs
Bianca Premo, History, Steven J. Green School of International and Public Affairs
Jenna Gibbs, History, Steven J. Green School of International and Public Affairs
Leanne Wells, Mastery Math Program, College of Arts, Sciences & Education
Jon Comer, Psychology, College of Arts, Sciences & Education
Madhavan Nair, Immunology, Herbert Wertheim College of Medicine
Mark Weiss, Computing and Information Sciences, College of Engineering & Computing
Steven Heine, Religious Studies, Steven J. Green School of International and Public Affairs
Marianna Baum, Dietetics and Nutrition, Robert Stempel College Public Health & Social Work
Eric Wagner, Social Work, Robert Stempel College Public Health & Social Work
Fernando Noriega, Biology, College of Arts, Sciences & Education
Raul Gonzalez, Psychology, College of Arts, Sciences & Education
Lorraine Bahrick, Psychology, College of Arts, Sciences & Education
Marisela Agudelo, Immunology, Herbert Wertheim College of Medicine
Iqbal Akhtar, Religious Studies, Steven J. Green School of International and Public Affairs
April Merleaux, History, Steven J. Green School of International and Public Affairs
Mauricio Rodriguez Lanetty, Biology, College of Arts, Sciences & Education
Margaret Sibley, Psychiatry and Behavioral Health, Herbert Wertheim College of Medicine
Arif Sarwat, Electrical and Computer Engineering, College of Engineering & Computing
Hakan Yilmazkuday, Economics, Steven J. Green School of International and Public Affairs
Jorge Esquirol, College of Law
Maureen Donnelly, Biology, College of Arts, Sciences & Education
Golam Kibria, Mathematics & Statistics, College of Arts, Sciences & Education