1st PLACE WIN in INTERNATIONAL COMPETITION for WYNWOOD GATEWAY PARK
The interdisciplinary team comprised by Nick Gelpi, Jim Drain, and Roberto Rovira were selected as winners from among 238 submissions from 23 countries for their design of "Wynwood Greehouse Park" in Miami's Wynwood neighborhood.
11 finalists were chosen by an esteemed panel of expert judges including: Enrique Norten – Founding Principal, TEN Arquitectos; Terence Riley – Principal, Keenan/Riley; Former Director of Miami Art Museum and Museum of Modern Art; Raymond Jungles, ASLA – FASLA, PLA, Founding Principal of Raymond Jungles, Inc.; Allan Shulman, FAIA, Principal, Shulman + Associates; James Russell, FAIA, architecture critic and journalist; Andrew Frey – Development Manager, Codina Group; Founder, DawnTown; Tony Cho – CEO and Founder, Metro 1 and Moderator- Joachim Perez, Executive Director of DawnTown.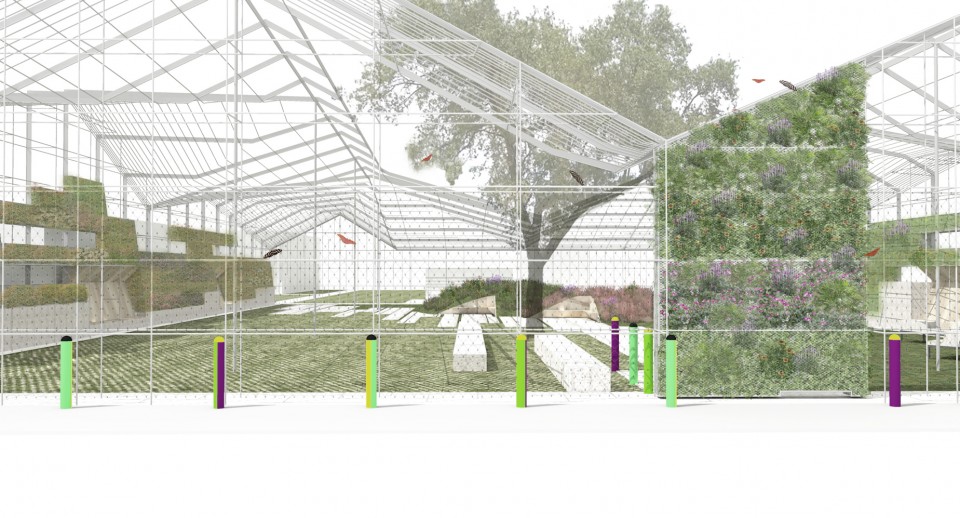 The competition was conceived by neighborhood visionary and Metro 1 President and CEO, Tony Cho, in partnership with DawnTown, a non-profit organization dedicated to promoting architecture in Miami and AIA Miami, the local chapter of The American Institute of Architects, with the goal of creating a dynamic 14,000-square-foot space that offers the local community, visitors and tourists a place to come together and enjoy the neighborhood in a public environment. It is located at 2825 NW 2nd Avenue in Miami.
Other finalists for the competition were:  AGENCY Architecture LLC and Aranda/Lasch from New York City, New York; Solid Objectives – Idenburg Liu / SO-IL and stpmj from Brooklyn, New York; Meyer + Silberberg – Land Architects from Berkeley, California; SFA from Madrid, Spain; Colour: Urban Design Limited and Wayward Plants from London, England, AZC – Atelier Zundel Cristea from Paris, France and ONZ Architects from Ankara, Turkey.
"We are truly honored to be selected from among such a prestigious group of competitors. We look forward to working with the city of Miami and Metro 1 to realize an ambitious vision that acknowledges the vibrancy of the Wynwood neighborhood and that emphasizes the unique natural wonders of south Florida. We hope that our park will be a place where people come together with nature and art in an urban environment, where everyone can feel at home and where people and nature thrive together." -Nick Gelpi, Roberto Rovira, Jim Drain
For more on the competition:
• Official Press Release from Thursday, 18SEP2014
• Miami Herald front page story "Miami artist, architects win design competition for new Wynwood park" by Andres Viglucci: Thursday, 25SEP2014
• Curbed-Miami: "Paging Mr. Paxton: Epic 'Greenhouse' Design Wins for Wynwood Gateway Park" by Sean McCaughan: Thursday, 25SEP2014
• New Times: "Wynwood Is Getting a New Park and It Looks Like a Greenhouse" by Trevor Bach: Friday, 26SEP2014
• Bustler: "Wynwood Greenhouse" gets 1st place in DawnTown's Wynwood Gateway Park Competition in Miami": 29SEP2014
• Architect's Newspaper Blog: "A greenhouse-inspired park to bring new public space to Miami's Wynwood Arts District" by Henry Melcher: 29SEP2014
• Archinect: "Wynwood Greenhouse" gets 1st place in DawnTown's Wynwood Gateway Park Competition in Miami" by Justin Testado: 01OCT2014
• Bustler: "A closer look at the winning Wynwood Greenhouse garden park to be built in Miami": 06OCT 2014
• www.wynwoodgreenhouse.org: official competition website
• History of the competition leading up to the finalist announcement